VIRTUAL MEETINGS - THE NEW NORMAL
Many companies are now faced with working remotely. Are you ready to meet online?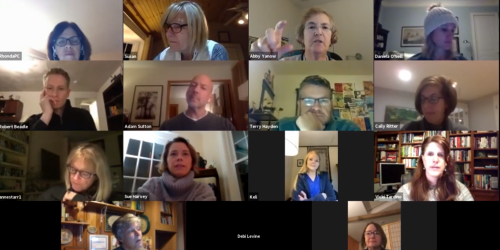 There are many features of meeting online:
participants can see each other using their webcam
you can share a document and people can watch as you make edits that reflect people's comments and the decisions you come to
you can ask for people's input in advance of a meeting, in a Googledoc, that will save you time in the meeting itself
you can create polls to rank ideas, in a brainstorming session, or to rank priorities
In short, you don't need to be anxious about using the virtual space.
I've designed and facilitated many meetings and trainings virtually. I'd be happy to help you maximize the engagement and productivity of your virtual meetings. Call me so we can discuss your needs.
At Skillful Facilitation, we design meetings to help you achieve your desired outcomes. Our goal is collaboration and engagement, taking everyone's input and wisdom and creating a solution that's greater than the sum of the parts - a solution that no one person could have come up with alone. Not only do people leave with action plans, the group also learns to improve the way they work together. At a recent retreat, one participant remarked: That was pretty slick the way you got us talking to each other.
Testimonials:
Abby has led very deep and thoughtful team coaching with both the Senior Team and the Board of Trustees at Wellspring. I am thrilled with Abby's support, insights, and impact. What's so unusual about Abby is her ability to quickly get to the root of an organizational issue and help teams communicate and problem solve. We are building new communication and decision making systems, thanks to Abby's support, and it's helping a lot. Melissa Dimond, Executive Director, Wellspring House.
I hired Abby for a consultation on the design of a session with a senior leadership team. I decided to call Abby because I've seen how skilled she is in the design of facilitation events. I was so right in making this call! Abby was an excellent thought partner and coach. She asked provocative and valuable questions and helped me look at both the internal (my own thinking) and external challenges related to this session. Together, in a few short hours, we put together an awesome facilitation plan. Abby should be your Go-To thought partner to help in designing a program. CS, Executive Coach
Virtual Facilitation
Training on virtual meetings
Improve your effectiveness as a leader
Improved problem solving for your team
Collaboration across siloes
Peer consultation for leaders
Coaching on Career transition
What's keeping you up at night?
Call 617-625-0211
Email Abby
Abby did an outstanding job in facilitating a Visioning session for our leadership team. She prepared well and managed the flow of ideas throughout the day. In particular, Abby was adept at bringing the day to closure.
Director, International Business School
I'm happy to make a recommendation -- particularly under the category of unflappability in assessing and redirecting unexpected challenges, hostility, dilemmas within groups. I guess that means you're an unflappable facilitator!
Program Director, Obesity Prevention & Control Program